John Vena (30) Reports from 2020 Commissioning Week
Posted: 8/7/2020
John Vena (30) was in Annapolis for the graduation and commissioning of his son Val '20, and provided this first-hand report:
Commissioning Week 2020 is in the books, and as they say, "We plan, God laughs!"  My son Valentine graduated from the 23rd Company and commissioned USN with Nuclear Power School (subs) looming in his future.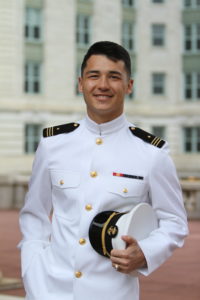 His USNA journey began in 2003 at the Notre Dame football game.  Sitting amongst the Irish faithful, my 6-year-old cheered for Navy right up to the closing seconds when ND kicked a winning field goal.  While Navy might have lost that day, my son Val was so emotionally invested that he began a journey, that never faltered, and that finished this past May.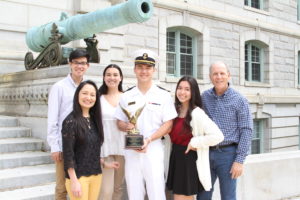 As a family so much of what we planned fell by the wayside:  The big house for family and friends, catering, parties, portraits, dances, classmates, Herndon, Commissioning…the list goes on.  What we experienced instead was not insignificant, though much of it fell under the "Better to ask forgiveness" column.  While my son rightly feels loss, I have a slightly different take on it.
First and foremost, he graduated.  He stood in T-Court and threw his hat up in the air with 200 of his classmates, and we were there.  Sort of.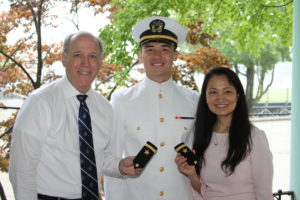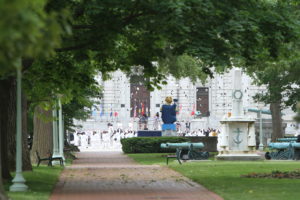 While the Yard was closed, we were allowed to drive on with him.  With officers ringing the perimeter from Bancroft – Chauvenet – Michelson – Mahan – Preble – to the Chapel we were as close as possible sitting in our car in the Mahan parking lot.  That's when fate took a hand.  Our son's classmate was cross commissioning into the Air Force and his father was in our car.  After the ceremony they came to get him for a private ceremony in Memorial Hall.  We took all our camera gear (My wife and I owned a photography studio) and just followed him inside like we belonged.  Once there we were able to take photos of our son and 15 of his closest friends.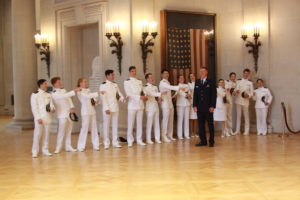 By then T-Court had cleared out and we went outside and took more pictures.  I was finally "Jimmy Legged" by an active duty commander who flashed his ID, but by then we were sated and pleased to be on our way. Unlike the big party we had planned, that night was Chipotle, beer and Whiteclaws.  It was a blast.  With his classmates dropping in and out all night – and multiple booze runs – it was a lot of fun.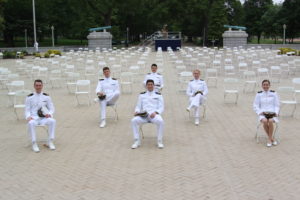 Two days later he was commissioned.  There was no stadium.  No VIP speakers.  No mass gathering of the class… There was also no traffic.  No crowds.  No heat.  No hassle.  Instead we gathered with 9 other Midshipmen outside Gate 3 as BGen Stephen Liszewski – former Commandant – spoke from his heart and then Commissioned them.  Only speaking for myself, it was more personal and powerful than my experience in Navy Marine Corps Stadium.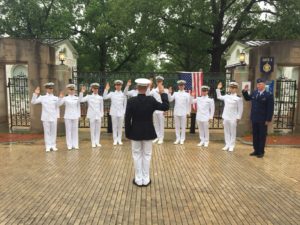 It was a week of casual dinners, Mids in and out, and ice-cream in Naptown with no lines anywhere.  I know it wasn't what my son and 1000 other Mids were looking for, but as a parent and grad, it had its moments. Not the least of which was the time spent with so many of his classmates.  The future of our Navy is in good hands.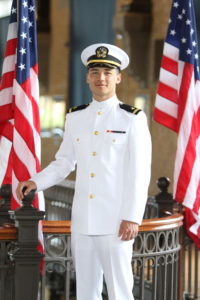 «
Dant's Briefing on USNA 4/24/2020