News, Events & More
Reunion Update #4
Posted: 5/18/2022
Reunion Update #4 – Football Tickets Gouge
All classmates, even the hard chargers on the 40th committee, must have a football tix and a tailgater band to enter.

For discounted football tickets to the Reunion game, 
Saturday, 29 October 2022
, go to 
navysports.com
, click on the "tickets" tab, select "enter ticket promo codes", then type in 1982 in the text bar. The tickets are digital. If you haven't used the process, there are videos and FAQs on 
https://navysports.com/sports/2020/8/10/navy-digital-ticketing.aspx
 that explain process for different transactions. "Hill 2" tickets will be closest to our tailgater.
Hill 1 and Hill 2 are showing "low inventory", these are all Standing Room tickets, not seated tickets. If they do sell out, let me know and I (Goat One Jane) will get in touch with Athletic Assn. [Read that as "time, tide, and football tickets needed to get into our tailgater wait for no one."
Call Mac Loud at (410) 293-8743 for HILL 1 and 2 Seats, but if you only plan to party with no sitting, purchase SROS on Hill 1 and 2 with link.
Reunion Update #3
Posted: 5/11/2022
Reunion #3 – Coming in your June issue of Shipmate

40th Reunion – Update #2
Posted: 3/30/2022
40th Reunion – Update #2
We are inside of seven months before our 40th Reunion on October 27-30, 2022. Here is the latest information:
1) Lodging – All of the '82 hotel room blocks have been expanded and then sold out. You will need to make your own accommodation arrangements. Our reunion is on Homecoming weekend. Annapolis will be busy, so please make your arrangements soon.
2) Registration – Stay tuned for Registration Details. We are finishing up the preps for the Registration and Gedunk websites. Updates will first be posted to the class website at www.1982.usnaclasses.net and our Facebook group at www.facebook.com/groups/usna82
3) Old Goat Run – Jeremiah McEnerney is coordinating the perimeter run for Saturday morning at 0800. Start dropping those pounds and limbering up so you can "follow the man in the red Corvette!"
4) Tailgater – We will be having the Tailgater inside the Navy-Marine Corps Stadium in the Class of '53 Pavilion, just as we did for our 35th Reunion. Having the tailgater inside the stadium will require everyone attending to buy a football game ticket; no exceptions. Details on purchasing tickets will be forthcoming.
5) Bike Ride – Mark "Stick" Converse is coordinating a ride on Sunday morning, open to all riders, kinds of bikes, and abilities. 0730 departure from the Route 2 Trailhead on the Annapolis-BWI Trail. For those coming from out of town, Big Wheel Bikes has multiple locations in the DC area with multiple bike types available to reserve for rental. Contact Stick for more info: converse@cypressintl.com
6) Tentative Schedule of Events
NOTE: ALL TIMES SUBJECT TO CHANGE
Thursday October 27
0730-1600:                     Midstore Hours
0900-1700:                     Museum Hours
0900-1700:                     VisitorCenterHours
0900-1600:                     Registration/Check-in – Site TBD
0900-1200:                     USNA Walking Tours & Coffee Reception (Site TBD)
1200-1700:                     Golf – USNA Golf Course – Time: TBD
1800-2030:                     Crab Feast – Mike's South River
Friday October 28
0730-1600:                     Midstore Hours
0900-1700:                     Visitors Center Hours
0900-1600:                     Registration/Check-in – Site TBD
1000-1100:                     Memorial Service – Memorial Hall
1200-1300:                     Class Meeting
1350-1500                      Superintendent's Briefing and Alumni Association
Welcome
1600-1700:                     Formal Dress Parade on Worden Field
1700-1930:                     Post P-Rade Reception – Jack C. Taylor Conference
Center (Beach Hall)
 1900-2300:                    Company/Team/Club Gatherings
Saturday October 29
0830-1330:                     Midstore Hours
0900-1500:                     Visitors Center Hours
0900-1700:                     Museum Hours
AM                                 Community Service Project (Site TBD – with MAG)
0800                               Old Goat Run (On the Yard)
(TBD)                              Tailgate Party at Navy-Marine Corps Stadium
(TBD)                              Navy Football!
PM                                  Company/Team/Club Gatherings
Sunday October 30
0730                               Bike Ride. Meet at the Route 2 Trailhead –
                                       Annapolis-BWI Trail
0830-1030:                     Sunday Brunch
0900-1700:                     Visitors Center Hours
0900-1500:                     Museum Hours
0900-1000:                     Catholic Service in Main Chapel
1100-1215:                     Protestant Service in Main Chapel
AM/PM                          Company/Team/Club Gatherings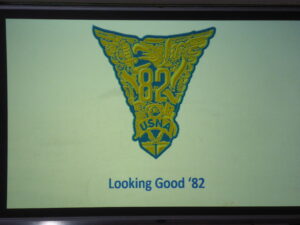 40th Reunion – Update #1
Posted: 1/1/2022
40th Reunion – Update #1
Happy New Year '82! Do you believe that it's been almost 40 years since that day in May when we gathered at Navy-Marine Corps Memorial stadium and tossed our hats in the air?  I know, it's hard to wrap your head around but as we learned so well in our "four years by the Bay" – time, tide and formation wait for no one.  I am excited and honored to serve as your reunion coordinator again this year! We have most of the band who did the 35th back with us plus a few new faces and we're ready to start the preparations in earnest.  Here is our first update:
1.  Reunion Weekend – in case you haven't heard the dates have been set for 27 – 30 October.  This is homecoming weekend and right now the only class that I'm aware of holding their reunion that weekend is '72.  I'm sure there will be one or two more classes added to the mix so Annapolis will be rocking in late October.
2.  Registration – things have changed with the Alumni Association since our 35th and right now we are working to develop the registration process for reunion events, geedunk ordering, etc. Once we have that worked out we will send everyone a link to the registration web page and we'll post it on our class website and Facebook page as well.
3.  
Lodging
 – coming off the pandemic year most of the hotels in Annapolis have gone to a policy of offering large blocks of rooms with an attrition clause meaning that if we reserved a block of 100 rooms and only had 60 rooms booked by a certain date (usually 60 days prior to the weekend) we (as a class) would be responsible for paying the hotel for the rooms not reserved.  This could potentially put a huge financial burden on the class, something the committee and the class officers did not want to do.  Therefore we have opted to reserve smaller blocks of rooms at these hotels without an attrition clause.  We have also engaged the services of Dan Morio ('96) a travel agent who specializes in booking blocks of rooms for classes holding reunions.  Dan has built a landing page which contains all of the hotel information for our weekend.  Here's the link for that page: 
Dan & Lisa Morio (gonavytravel.com)
.  You can go to the landing page, review the information, click on the link provided for any of the hotels, input the code and book your room.  You can also call the hotels directly to book as well.  
If you have any problems with that process you can contact Dan and he will assist you in booking your room.  His phone number is 904-297-1391.
 Some of the hotels may be able to add rooms to the block if all the rooms in that block get reserved – Dan would be the person to contact the hotels to work that out. If you can't find suitable accommodations with the hotels on the landing page you can also try VRBO and AirBnB for houses/condos in the Annapolis area for that weekend.  Many will allow you to book for the weekend or longer if you desire.
The reunion committee is working hard on the preparations for the 40th and as we get our schedule of events, prices, locations, dates and times for events finalized we will put out more updates and post those on the class website and Facebook.  Rett Rasmussen is one of the new faces on the committee and he is serving as Communications Director.  Expect to see these updates coming from Rett as we go forward.  In the meantime, if you have any reunion questions, concerns, suggestions or issues, please feel free to shoot me an email.  I'll do my best to get back to you in a timely manner.  My email address is 
rbclyborne@gmail.com
.  We're looking forward to another great reunion weekend and hope that many of you will be able to join us back at the Boat School in October!
40th Reunion – Save the Date
Posted: 10/19/2021
40th Reunion – Save the Date:
Thursday, October 27 through Sunday, October 30, 2022
Please direct any questions to Rett Rasmussen, Communications Director, at Rett@Rasmussen.biz or 562-822-0755 (text or call)