News, Events & More
40th Reunion – Save the Date
Posted: 10/19/2021
40th Reunion – Save the Date:
Thursday, October 27 through Sunday, October 30, 2022
Please direct any questions to Rett Rasmussen, Communications Director, at Rett@Rasmussen.biz or 562-822-0755 (text or call)
John Vena (30) Reports from 2020 Commissioning Week
Posted: 8/7/2020
John Vena (30) was in Annapolis for the graduation and commissioning of his son Val '20, and provided this first-hand report:
Commissioning Week 2020 is in the books, and as they say, "We plan, God laughs!"  My son Valentine graduated from the 23rd Company and commissioned USN with Nuclear Power School (subs) looming in his future.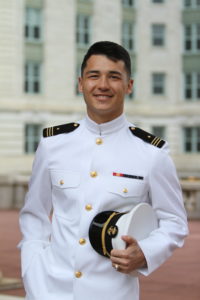 His USNA journey began in 2003 at the Notre Dame football game.  Sitting amongst the Irish faithful, my 6-year-old cheered for Navy right up to the closing seconds when ND kicked a winning field goal.  While Navy might have lost that day, my son Val was so emotionally invested that he began a journey, that never faltered, and that finished this past May.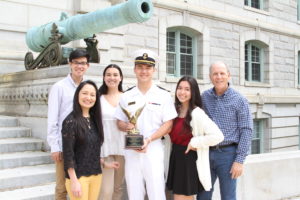 As a family so much of what we planned fell by the wayside:  The big house for family and friends, catering, parties, portraits, dances, classmates, Herndon, Commissioning…the list goes on.  What we experienced instead was not insignificant, though much of it fell under the "Better to ask forgiveness" column.  While my son rightly feels loss, I have a slightly different take on it.
First and foremost, he graduated.  He stood in T-Court and threw his hat up in the air with 200 of his classmates, and we were there.  Sort of.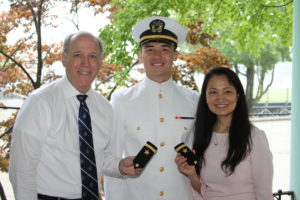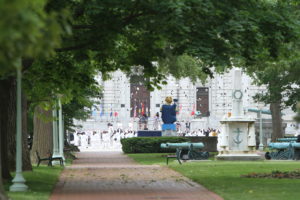 While the Yard was closed, we were allowed to drive on with him.  With officers ringing the perimeter from Bancroft – Chauvenet – Michelson – Mahan – Preble – to the Chapel we were as close as possible sitting in our car in the Mahan parking lot.  That's when fate took a hand.  Our son's classmate was cross commissioning into the Air Force and his father was in our car.  After the ceremony they came to get him for a private ceremony in Memorial Hall.  We took all our camera gear (My wife and I owned a photography studio) and just followed him inside like we belonged.  Once there we were able to take photos of our son and 15 of his closest friends.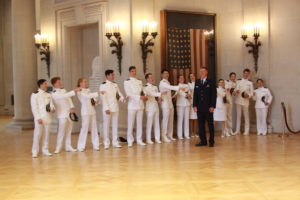 By then T-Court had cleared out and we went outside and took more pictures.  I was finally "Jimmy Legged" by an active duty commander who flashed his ID, but by then we were sated and pleased to be on our way. Unlike the big party we had planned, that night was Chipotle, beer and Whiteclaws.  It was a blast.  With his classmates dropping in and out all night – and multiple booze runs – it was a lot of fun.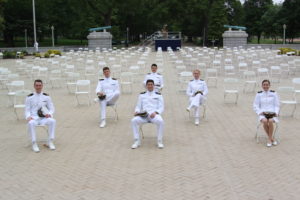 Two days later he was commissioned.  There was no stadium.  No VIP speakers.  No mass gathering of the class… There was also no traffic.  No crowds.  No heat.  No hassle.  Instead we gathered with 9 other Midshipmen outside Gate 3 as BGen Stephen Liszewski – former Commandant – spoke from his heart and then Commissioned them.  Only speaking for myself, it was more personal and powerful than my experience in Navy Marine Corps Stadium.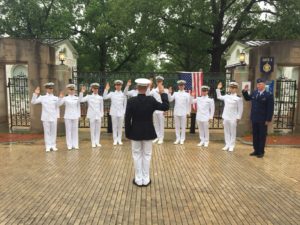 It was a week of casual dinners, Mids in and out, and ice-cream in Naptown with no lines anywhere.  I know it wasn't what my son and 1000 other Mids were looking for, but as a parent and grad, it had its moments. Not the least of which was the time spent with so many of his classmates.  The future of our Navy is in good hands.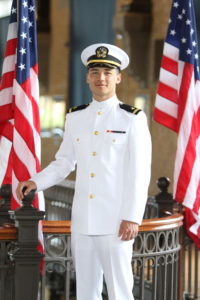 Dant's Briefing on USNA 4/24/2020
Posted: 4/24/2020
From Goat One Jane Conley:
Hey '82
I will send out a few emails over the coming weeks but wanted to get this to you promptly as I know USNA has been in your thoughts.
Dant's Briefing;
Upon notification of COVID 19, USNA went into planning for return of all mids from study abroad programs.
Currently only single digits number of mids have COVID 19. Several Alumni are in front line positions against COVID 19.
A few of the older alumni have died from COVID 19.
At this time there are about 45 mids living in Bancroft Hall
Restrictees that elected to return to serve out their demerits
A few firsties returned to complete conduct adjudications
International exchange students who cannot return to their home countries due to travel restrictions.
A few who need morale from USNA. Jane's notes – Dant did not go into specifics on this one but did mention that health and welfare checks are completed continually given the recent deaths at USAFA.
Mids still have their liberties given their rank but must follow Maryland rules as far as retrieving necessities beyond the gate. King Hall is still open. Rest of the mids are at home and the squad leaders are a key factor in the communications with every mid. Top desire of the mids is to get back to Bancraft away from their parents!!
Class of 2020 is resilient as they are involved in virtual dining outs, virtual marathons, virtual chaplain's morale minutes, and "Dant's Dailies" (think this is on instagram??). They are sad that they may not have a graduation like expected, but also know that in the future they will also miss many important family events while in service for their country. Dant said that Supe is preparing the battlefield for virtual graduation/commission on 22 May. Currently, it is unknown if the class of 2020 will be geographically near Annapolis or at home. Orders from BUPERS will start transmitting next week to those attending flight school class beginning end May and Basic in early June.
Supe and Dant are continually asked why USNA graduation is not being done like USAFA and West Point. They respond that each service has its own policies and the robustness of communities outside the gates are not equal.
Planning for events after graduation:
Resetting Rooms for camps (NAFS, STEM, etc) and plebe summer, Class of '24

Clearing items out of rooms
Sanitizing (COVID, rats, cockroaches)

Admissions Boards for Class of '25. ACT/SAT testing not occurring at prescribed times?
SUPE and Chett Gladchuk are still working on decision for Ireland and rest of football season.
Jane's shopping recommendations:
If you want a piece of the chapel dome copper. Order from Herff Jones at https://usnachapeldome.com/
Crazy times, Set up zooms with your best USNA friends and if you have ideas on how to welcome the class of 2020 from the class of 1982, I can set up a zoom.
As always, We all want to know what you and your families are doing with COVID and against COVID and Rett is standing by to take them rett@rasmussen.biz
You can email me at jtcnaples@yahoo.com
Keep those questions coming.  Jane
R.I.P. Roger Bradford Jr. (2), March 29, 2020
Posted: 4/1/2020
We sadness, we report the sudden passing of Roger Bradford Jr. (2) of Tequesta, FL.  Roger died tragically in a one-man boating accident on March 29, 2020, near his home.
Roger is survived by his wife, Stacey; daughter, Madison and son, Dylan.  Madison attends the University of Florida and Dylan is close to earning his private pilot's license while finishing his senior year in high school.
April 1, 2020 – the Class received this note from Stacey:
To all of Rogers classmates and Academy friends,
I want to Thank You from the bottom of my heart for your kind words and loving thoughts.
Our family is devastated and going to miss him immensely!!! We know how much the Naval Academy/ Navy impacted him. He loved serving his country, it held such a special place in his heart. The pride and strength he acquired from that experience shaped him into the loving family man he was. We are at a loss words, but know his strength will get us through this. Again, thank you all so much for reaching out. As he would always say.. GO NAVY. BEAT ARMY. 
With much love,
The Bradfords 
R.I.P. – Chuck Murphy (23), August 21, 2019
Posted: 10/7/2019
With sadness, we report the passing of our classmate Charles 'Chuck' Murphy (23) on August 21, 2019.  Chuck died unexpectedly from complications of a massive heart attack in Murrieta, California. A private memorial was held on Friday, August 23, 2019. The family has asked that those wishing to help with Chuck's final medical expenses contribute via their GoFundMe page https://www.gofundme.com/jd398-chuck-murphy039s-final-expenses.